Carnegie Council's first student research competition, a new student outreach initiative, took place on May 20, 2015. This spring, the Council invited students from around the New York metro area to submit abstracts on their original research in ethics and international affairs. After reviewing many excellent submissions, we chose the best to present their work at a lunch hosted by Carnegie Council.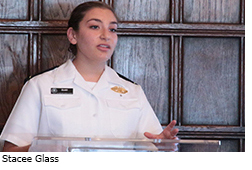 These presentations were judged by a panel of experts and a free, year-long Carnegie New Leaders program membership was awarded to the winner. Stacee Glass of the United States Merchant Marine Academy was declared the winner for her presentation on the ethics of the Rules of Engagement used by the United States Armed Forces.
Participants at the event included:
Ann George, New York University
Presenting on Czech Republic: AML Effectiveness and Accountability in Growing Democracies
Stacee Glass, U.S. Merchant Marine Academy
Presenting on The Rules of Engagement in the United States Military
Sandra Khalil, Binghamton University
Presenting on The Effect of Globalization on Respect for Human Rights
Marina Kumskova, John Jay College of Criminal Justice
Presenting on Enforced Disappearance of Human Rights: Comparative Study of Inter-American and European Courts of Human Rights
Matthew Sacco, Stony Brook University
Presenting on Fortress Europe: The European Union's Response to the Syrian Refugee Crisis and its Effect on Regional Stability in the Middle East
Carnegie Council would also like to thank our judges for their participation in this event.
Jonathan Gage, The Boston Consulting Group
Mladen Joksic, Council on Foreign Relations
Pam Kingpetcharat, Uncommon Schools
Carolyn Kissane, New York University