"Where, after all, do universal human rights begin? In small places, close to home—so close and so small that they cannot be seen on any maps of the world. Yet they are the world of the individual person; the neighborhood he lives in; the school or college he attends; the factory, farm, or office where he works."---
Excerpt from Eleanor Roosevelt's famous speech at the presentation of
"
IN YOUR HANDS: A Guide for Community Action for the Tenth Anniversary of the Universal Declaration of Human Rights." March 27, 1958. United Nations, New York."I want to mention a publication brought out under the auspices of 32 non-governmental organizations under the chairmanship of John R. Inman of the Church Peace Union [Editor's note: now Carnegie Council]. It is called
In Your Hands
. This is a small paperback volume which I had the honor of presenting to the members of the Human Rights Commission...".
---April 25, 1958. Excerpt from "My Day," Eleanor Roosevelt's popular newspaper column.
Here follows a short excerpt from the booklet's introduction and images of the cover and the Table of Contents. The full booklet is available as a PDF in the right column.
The Why and How and of this Book
The United States and the United Nations are calling on you to celebrate a great event: The Universal Declaration of Human Rights will be ten years old on December 10, 1958. . . .
America's advances depend on every citizen. From now until the Declaration's tenth anniversary on December 10, 1958, you will want to study and discuss the Declaration, examine the human rights situation in your town and plan an observance that will lead to action.
The purpose of this book is to help you.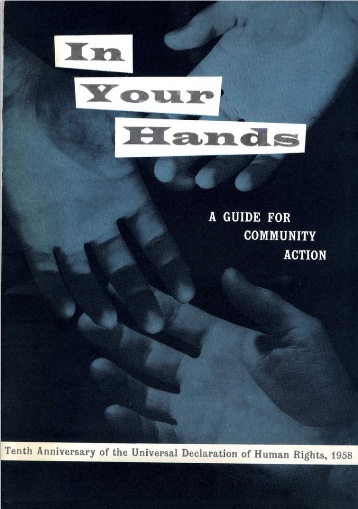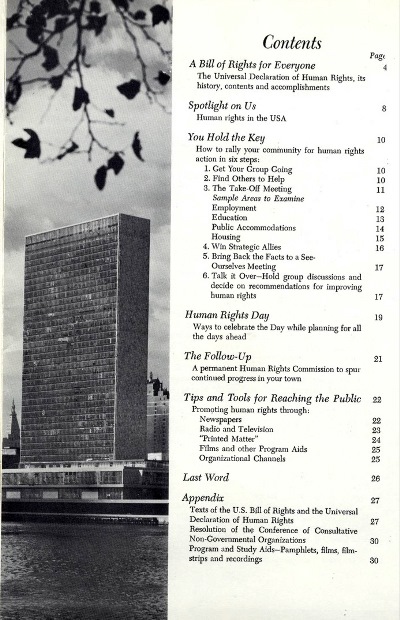 Many thanks to Jo-Anne Wilson Keenan, who brought this booklet to our attention. See her book, From Small Places: Toward the Realization of Literacy as a Human Right.