The ninth annual Global Ethics Day took place on October 19, 2022 with a theme of "Ethics Empowered"
In the face of extraordinary challenges such as accelerating climate change, rising nationalism, and war in Europe, organizations and individuals across 67 countries chose to take action and empower ethics on Global Ethics Day 2022.
To celebrate the day, Carnegie Council and New York University's Center for Global Affairs hosted a keynote event featuring Michael Schur, creator of the hit TV show The Good Place and author of How to Be Perfect: The Correct Answer to Every Moral Question. Carnegie Council President Joel Rosenthal and Schur discussed how each of us can use ethics to improve our daily lives, the power of humor as a force for good, and how collective ethical action can help address the global challenges that impact us all.

Over 350 virtual attendees joined the event from across 38 countries, which was also streamed live at watch parties at Marist College, Dartmouth College, Pepperdine University, University of St Andrews, and Emory University.
Organizations that Empowered Ethics

The European Central Bank (ECB) elevated Global Ethics Day to new heights by designing an entire Ethics Awareness Week for its staff. The organization published a number of resources including an interview with its chief compliance and governance officer on ethics at ECB, produced a Global Ethics Day feature video, and showcased ethics in action by creating its own interactive chatbot to engage with staff on ethical questions.

For the third Global Ethics Day in a row, commercial real estate company Jones Lang LaSalle (JLL) activated its network of country offices to empower ethics. In France, the JLL office held an "ethics morning" talk where teams discussed ethical dilemmas; in Singapore, staff shared Global Ethics Day messages; and throughout the organization, JLL teams took the day as an opportunity to review the Code of Ethics and complete their ethics training and certification.

Charted Accountants ANZ (Australia & New Zealand) provided a number of Global Ethics Day resources for its members. The organization held a special virtual event showcasing how ethics can be put into action within the accounting profession and also offered additional resources such as professional ethics courses and a series of articles titled the "Practical Ethics Advice."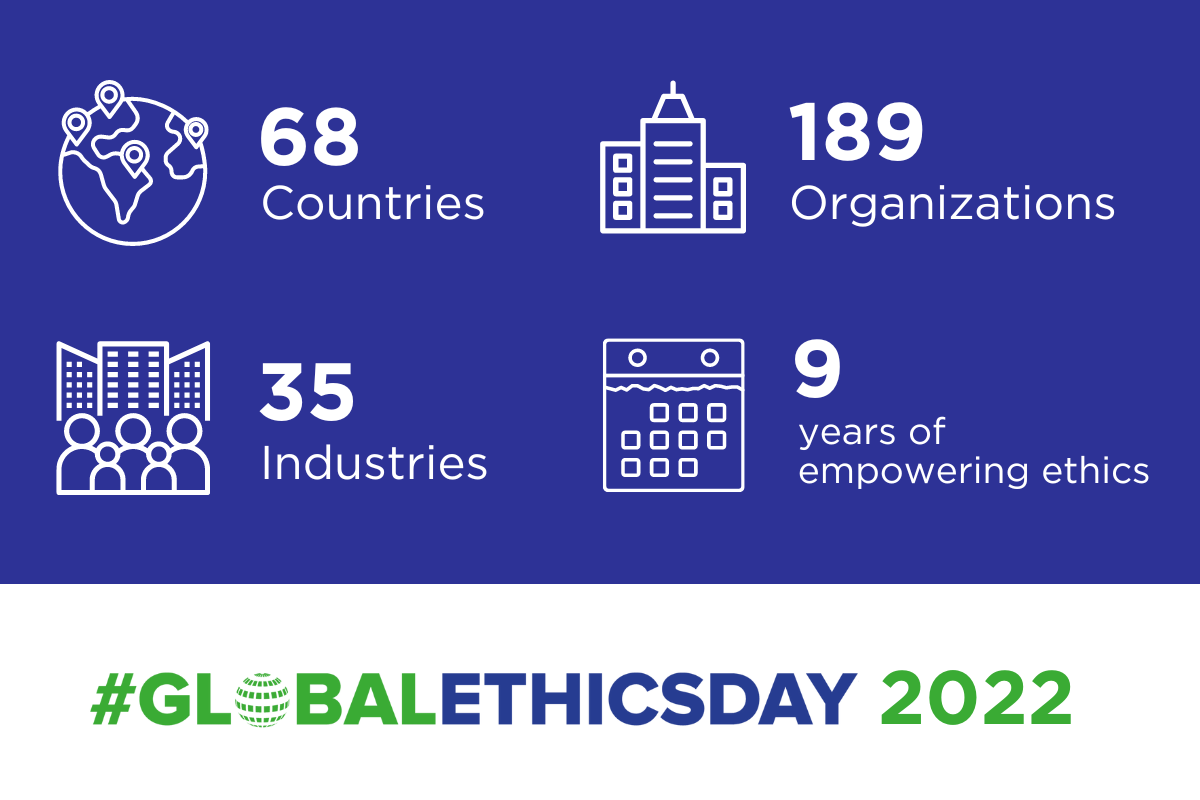 Additional participant highlights include:
Baze University Law Clinic in Nigeria produced a video about the meaning of ethics;
Wits University in South Africa held a half-day virtual event on ethics and integrity;
University of Tirana in Albania organized a youth competition, scientific symposium, and student workshop;
Aktiffelsefe Cultural Association in Turkey hosted a children's workshop exploring the links between science and ethics;
Dr. Rishi Sookdawoor launched LeadEthics, a digital platform seeking to empower ethics in the business community in Mauritius and throughout Africa;
Bank of Valletta in Malta enacted an Empower Ethics Campaign encouraging employees to share what ethics means to them; and
The University of North Carolina at Chapel Hill's Office of Ethics and Policy hosted a series of events promoting awareness and discussion around ethics throughout the month of October.
#GlobalEthicsDay also trended on social media with organizations and individuals sharing their support for #EthicsEmpowered, including Honduras' Central American Bank for Economic Integration, AstraZeneca, the Chartered Institute of Management Accountants in the UK, PBS Teachers, and Carol Tate, vice president and chief compliance officer at Intel.

Global Ethics Day will be back in 2023, on the third Wednesday of October, for its 10th year.
Be sure to subscribe to the Carnegie Ethics newsletter to stay up to date on all things Global Ethics Day and to receive exclusive content and event announcements from Carnegie Council.