Framing ethical perspectives
As countries grapple with global issues, such as climate change and the impact of emerging technology, the way that nations interact has never been more consequential. Our experts, programming, and Impact Initiatives, such as U.S. Global Engagement and its Doorstep podcast, work to analyze the foreign policy of the United States and other nations with an aim to explore shared values, produce agenda-setting resources, and connect these complex and important issues to the "doorstep" concerns of the public.
Foreign Policy Resources
International affairs, global governance, and more
APR 20, 2022 • Podcast
Global war, inflation, and a COVID-19 resurgence—the Biden/Harris team has been put on defense for first two quarters of 2022. This week, "Doorstep" co-hosts ...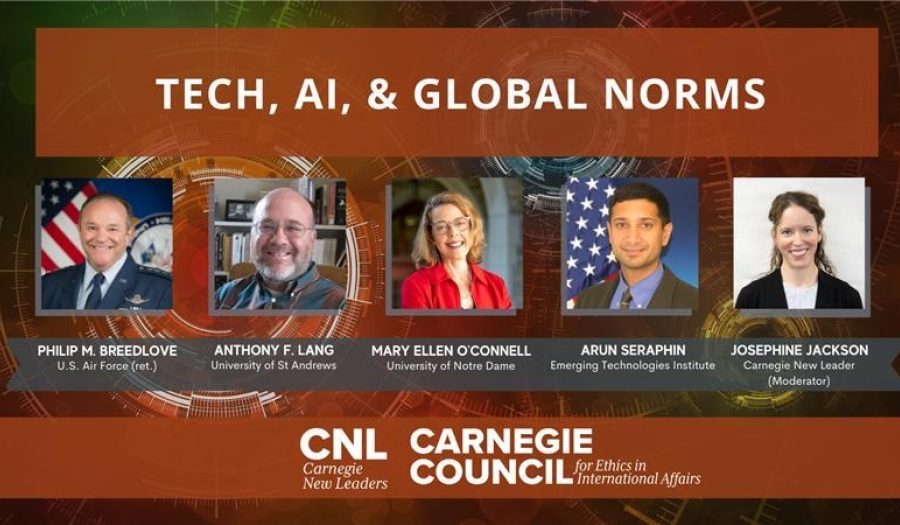 MAR 23, 2022 • Podcast
How do tech, AI, and global norms intersect to generate political, legal, and ethical dilemmas? In this event, Carnegie New Leader Josephine Jackson leads a ...
Related Initiatives
Carnegie Council's U.S. Global Engagement Initiative (USGE) seeks to generate wider discussions on U.S. foreign policy in order to move ethical considerations to the center of policymakers' thinking.
Ethics & International Affairs is the quarterly journal of Carnegie Council. It aims to close the gap between the theory and practice of ethics.