India's first female-run and -managed public sector bank was inaugurated on November 19, 2013 in the presence of the country's bureaucratic and political elite, a date chosen to coincide with the anniversary of Indira Gandhi's birth. The Bharatiya Mahila Bank (BMB) is supposed to exclusively serve women through its focus on livelihood issues, women-run businesses that support self-help groups, and gender-related aspects of empowerment and financial inclusion (though the bank's website indicates that men can also open accounts and take out loans). The government infused it with approximately $170 million.
While the institution may have good intentions, the timing of its launch just prior to the recent elections seemed more designed to feather the cap of the former government than to deliver real benefits. Some critiques follow below.
Empowerment or Not?
The World Bank defines empowerment as the process of increasing the capacity of individuals or groups to make choices, and to transform those choices into desired actions and outcomes. Individual and collective assets are central to this process, as is the efficiency and fairness of the institutions that govern those assets. The four key elements of empowerment according to the World Bank are access to information, inclusion and participation, accountability, and local organizational capacity.
While economic factors do certainly play a role in improving a women's financial position, the context within which empowerment occurs is also important for understanding whether a particular intervention has been effective. When it comes to financial transactions, strong patriarchal norms may reduce the role of women to a mere conduit for accessing loans and banking services, rather than effecting any real change in the prevailing social structure. A woman's "emancipation" may remain contingent on her continued financial success, and an empowerment measure such as a female-only bank may actually keep women subordinate in a novel way.
Déjà Vu
Raghuram Rajan, governor of the Reserve Bank of India, gave a speech on November 15, 2013 entitled "Policies" in which he said banks must focus on financial inclusion to keep the country on a growth trajectory. The RBI definition of inclusion already covers women as a "vulnerable group," and moreover the current banking system does not discriminate against women. Is there really a need to carve out a separate bank by diverting taxpayer funds?
Although the Bharatiya Mahila Bank received a lot of press and VIP attention, the fact is that women-centric banks have existed in India for quite a while, albeit in a low-key manner. The Mann Deshi Bank, founded in 1997 and headquartered in Mhaswad, Maharashtra, is the largest microfinance bank in the state with some 185,000 clients. Similarly, Shri Mahila Sewa Sahakari Bank, headquartered in Ahmedabad, was established in May 1974 to address credit access for poor women and to foster savings habits in a supportive setting. As of March 2013, the bank had 99,000 shareholders (borrowers) and 400,000 members (credit plus savings account holders). The average loan size is in the range of $170–255.
Where Is the Inclination to Serve Rural Women?
Bharatiya Mahila Bank is headquartered in New Delhi and there are plans to open branches in Kolkata, Chennai, Ahmadabad, Guwahati, Lucknow, Mumbai, and Patna. There were expected to be 25 branches by the end of March 2014. The first branch of the bank (approximately 5,000 square feet) was inaugurated in the swank Air India Building in Nariman Point, which incidentally also houses another public sector bank, the Bank of India, on the ground floor. Real estate in the area costs roughly $504 per square foot, and the branch is right in the midst of Mumbai's shopping and business district, flanked by the upscale Oberoi Towers hotel—clearly far away from the "target group" of poor and needy women that it aims to serve.
According to the former finance minister, the initial set of branches will be in state capitals. Yet if the bank's claims of empowerment are to be believed, then it is the women of rural India who deserve banking services first. Urban denizens already have a lot of choice, particularly in the cities being targeted by BMB. If female empowerment is the goal, then the bank's services should be accessible in more remote locations. Perhaps a technological solution through mobile phones could be used.
Kitchen Loans
The BMB website offers a Kitchen Modernization Loan program. To quote the bank's chairperson, "Women can borrow loans to redo their kitchen space, the place where most women spend most of their time." Yet where is the real estate to make this happen? A majority of Indians have roughly 100 square feet per capita for their living, sleeping, cooking, washing, and toilet needs. Only about 44 percent of rural households have access to power, and approximately 400 million Indians don't have access to a proper toilet.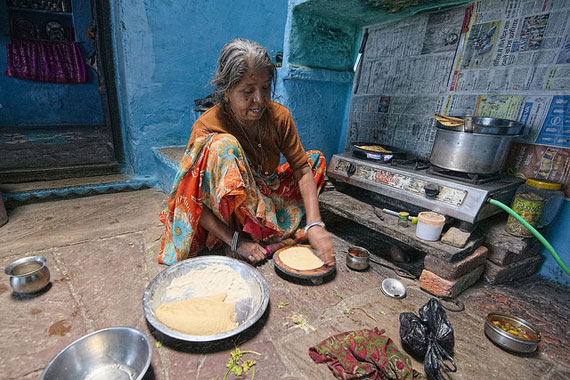 Conclusion
The stated rationale of the creation of this bank needs revisiting since India already has a diverse financial sector comprised of:
Private banks;
Foreign banks;
RRBs (Regional Rural Banks);
Cooperative banks; and
PSU Banks (Public Sector Undertakings, commonly referred to as nationalized banks. They bear the brunt of implementing financial inclusion, or priority-sector lending.).
The existing government machinery already has its hands full, and current institutions should be tweaked to address the female population without incurring any additional overhead or risk. Seen in this light, the Bharatiya Mahila experiment seems more a public relations move by the government to appease voters, at the taxpayer's expense.
While feminization of poverty along with a twist of the magical term "empowerment" is quite popular, the fact is that poor (often illiterate) women with erratic income flows, no collateral, and limited job opportunities are not very popular among commercial banks. Yet microfinance services that bundle access to doorstep savings with credit solutions, training, and capacity building can help to bring marginalized populations into the mainstream. Some examples that have helped to connect the unconnected are Bolivia's Banco Sol, Grameen Bank, and the aforementioned Indian banks, Mann Deshi and Mahila Seva Bank.
Stable income flows for the poor that can augment savings require targeted development programs—something that is not within the ambit of mainstream commercial banking. What is needed are:
Livelihood initiatives for women;
Technology to open markets and to connect women with customers and banks, so as to foster a cycle of stability and savings;
The delineation of politics and banking, which is difficult in the Indian context but very desirable. The Indian microfinance crisis is a good example of a situation where the intermingling of political intent with banking resulted in disastrous consequences; and
Order among the existing banks, and involvement of foreign and private banks as well, concerning financial inclusion. Currently, the latter two categories function on the fringes of financial inclusion, though they participate in other mainstream commercial banking activities such as credit, foreign exchange products, and investment banking.