WEDNESDAY, NOVEMBER 6, 2013
Presentation of Trans-Pacific Student Contest Winner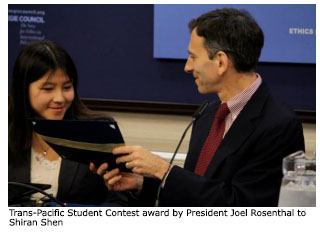 Joel Rosenthal and Devin Stewart: Welcome and objectives of the Network and conference
Shiran Shen: "The U.S., China, and Cybersecurity: The Ethical Underpinnings of a Controversial Geopolitical Issue."
Ethics Fellows for the Future Presentations (in alphabetical order)
Joanna Cichon: Technology use and effect in elementary school classrooms
Jack Friedman: The minimal amount of secularity necessary for democracy
Gage Hansen: A focus group on war and reconciliation
Tatsuya Liu: The ethical responsibilities on small island military maneuvers, using Guam and Okinawa as case studies
Yixuan Liu: The recent dispute on the conflicts of the South China Sea
Michael Angelo Liwanag: The influence of politics on cultural heritage conservation through the UNESCO World Heritage Center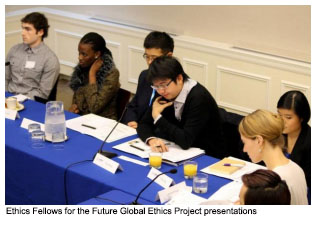 Vivian Ng: A focus group on democracy and its challengers, exploring what good governance and democracy means to young Singaporean voters
Marissa Roy: The legal and ethical responsibilities of the UN's 8th Millennium Development Goal on global partnership
Amanda Schmitt: The relationship between states and pseudo-governmental terrorist organizations and its effect on diplomacy
Berenike Schott: The inclusion of Islamic groups in the political process in Egypt and Tunisia
Oumie Sissokho: Civil demand for environmental management and government response and its impact on the human rights respect of citizens
John-Harmen Valk: How assumptions of "secular" and "religious" have come to affect understandings of international politics
Alison Walt: A focus group on citizenship and difference
Zeyu Wang: Ethical challenges in the information age
Peng Zhang: Global linkages of Chinese local government and domestic regions
THURSDAY, NOVEMBER 7, 2013
Global Ethics Fellows Presentations
Environment and Growth
Evan Berry: "Shortcomings of Private and Public Approaches to Climate Ethics—The Import of Global Ethics as a Frame of Analysis for the Moral Challenge of Climate Change"
Katsuhiko Mori: Global environmental negotiations and specifically the United Nations Conference on Sustainable Development (Rio+20)
Democracy and Its Challengers
Jiyoung Song: On the complexity of global ethics, norms and identities in international migration especially in Asia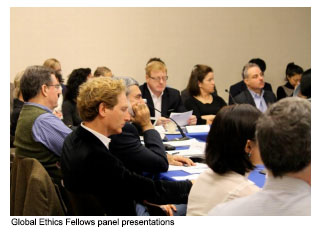 Mohsen Kadivar: "The Challengers of Democracy in Muslim world: Iran and Egypt and Role of Sharia, Conservatives, and Fundamentalists"
Jocelyne Cesari: Religion and international relations, and the role of religion in the democratic process
Emiliano Buis: "Fighting Tyranny: Antigone and Democratic Legitimacy, Corruption, and Trust"
Jean-Marc Coicaud: "Conceptual Mapping of Corruption and Trust: Ethics and Politics"
Aine Donovan: Lack of trust in the government (American government) and the NSA; the Millennial generation, less religion, more ties to technology
Fellows' Individual Projects
FRIDAY, NOVEMBER 8, 2013
War and Reconciliation
Madoka Futamura: types of reconciliation (former enemies, between victims and perpetrators, and one's past)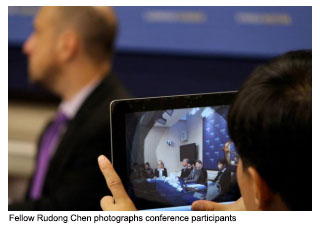 Shaul Cohen: Reconciliation as a scarce resource to be managed and harnessed. Mismanagement of reconciliation can be devastating. Experience with Northern Ireland.
Christian Barry: Nine common mistakes in media discourse on the war in Syria.
Rudong Chen: China's classical theorists/philosophers and the implication on modern war
Cheyney Ryan: The dilemma of cosmopolitan soldiers and issues of fairness in war
Deen Chatterjee: Just war and just peace approaches
Citizenship and Difference
David Ritchie: The "melting pot" metaphor vs. "cultural mosaic" in the United States
Hans Tung: Survey in East and Southeast Asia on the rise of China on influence and soft power
Kei Hiruta: Globalization and the commitment to the values of a country
Wrap Up
Michael Ignatieff: Carnegie Council Centennial and Global Ethical Dialogues
Devin Stewart: Thank you and next steps for the Network and Centennial
Jean-Marc Coicaud and Helle Porsdam: Edited volume of Fellows' research with 1) ethic conceptual mapping; 2) social and political engineering of global ethics; 3) concrete case studies
EFF e-journal: publication of students' work