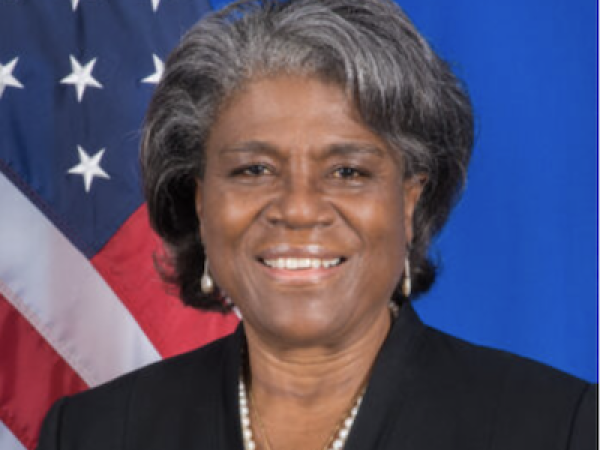 Connect
Linda Thomas-Greenfield is representative of the United States of America to the United Nations as well as the representative of the United States of America in the Security Council of the United Nations. She was nominated by President Joe Biden and confirmed by the Senate in 2021.
From 2013 to 2017 Thomas-Greenfield served as the assistant secretary of state for African affairs, and prior to this appointment, she served as director general of the Foreign Service and director of human resources (2012-2013).
Thomas-Greenfield's Foreign Service career also includes an ambassadorship to Liberia (2008-2012), and postings in Switzerland (at the United States Mission to the United Nations, Geneva), Pakistan, Kenya, The Gambia, Nigeria, and Jamaica. In addition, she served as principal deputy assistant secretary of the Bureau of African Affairs (2006-2008), and as deputy assistant secretary of the Bureau of Population, Refugees, and Migration (2004-2006).

After retiring from the U.S. State Department in 2017, Thomas-Greenfield led the Africa Practice at Albright Stonebridge Group and was inaugural Distinguished Resident Fellow in African Studies at the Institute for the Study of Diplomacy at Georgetown University from fall 2017 to spring 2019.
Thomas-Greenfield was the 2017 recipient of University of Minnesota Hubert Humphrey Public Leadership Award, the 2015 recipient of the Bishop John T. Walker Distinguished Humanitarian Service Award, and the 2000 recipient of the Warren Christopher Award for Outstanding Achievement in Global Affairs.
Featured Work